Permanent Jewelry

GET ZAPPED!

Treat yourself to a permanent addition to your jewelry collection - a 14k gold filled or sterling silver seamless bracelet or anklet.
Bring a friend to get matching friendship bracelets
or create a lasting memory with a loved one that you can cherish for a long time to come.

We allow 1-4 people at a time per appointment.
If you have a larger group, like a bridal party or
other special occasion, please see below on how
to contact us to arrange your unique experience.

We can also travel to you
to celebrate a special occasion...!
We require a $60 deposit per person
that will go toward your purchase.
This is non-refundable if you give less than 24 hours notice of a cancellation.
Appointments are booking quickly, so book now!

Pricing for bracelets and anklets range from $60-$95.
An assortment of charms are also available and are priced separately.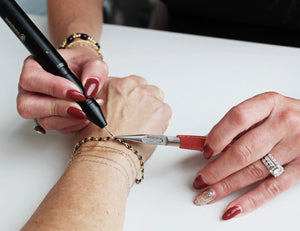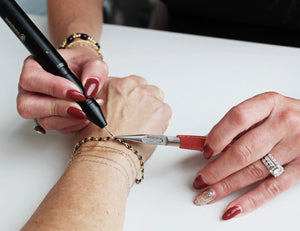 On Sale
Permanent Jewelry
If you would like to schedule an appointment outside of the listed available hours, please email customerservice@fiddlestixboutique.com.
If you are paying with a gift card,
please call (419) 931-2022
to schedule your appointment.
Gift cards are not accepted on this site.

Have a larger group, like a bridal party or other special occasion...?

Such occasions and groups might include:
Wedding Parties
Birthday Parties
Ladies' Nights
Retirement Celebrations
Employee Appreciation
Sports Teams
Senior Events

All special events will include a
complimentary digital invitation that can be sent to your guests
and beverages in a private setting.
We can also travel for special events and occasions...!

Please email
customerservice@fiddlestixboutique.com
to receive more information.