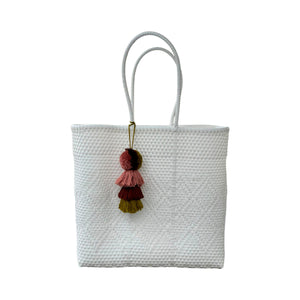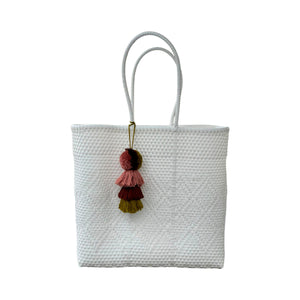 On Sale
Cocoles All White Citron™ Bag
Squeeze De Citron features eye-catching, beautifully colored bags handmade from 100% vegan recyclable plastic and imported by Mexican artisans. Perfect for your every day lifestyle.

Made from 100% recyclable plastic, these bags are hand crafted by Mexican artisans. Extremely durable with a rigid structure, they are water-proof and have long handles for easy use as a shoulder bag or handy-carry. Their unique texture and colors have made them perfect for any lifestyle activity, such as a beach day, boating, swimming, tennis, or golf. They are lightweight and made to last for years.
When used on the beach, rinse bag with a hose and the sand will self-drain through the small fibers of the bag. These artisan bags are flexible, allowing them to be bent and folded without damage.
Dimensions:
Length: 14.9 in x Width: 7.9 in x Height: 16.5 in