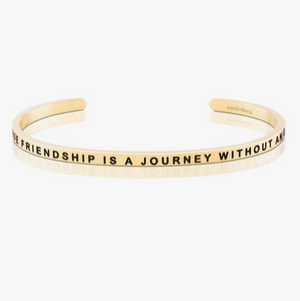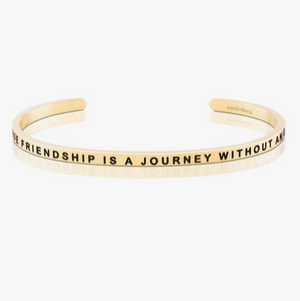 On Sale
A True Friendship Is A Journey Without An End Bracelet
A True Friendship Is A Journey Without An End is a reminder that life is an adventure, best lived with friends. Let them bring you strength and courage, knowing they're by your side through thick and thin. A true friendship has a depth greater than any distance, and though your paths may diverge, your journey will not end.
Mantrabands are fully adjustable and will fit most wrist sizes. They are designed to be delicate, lightweight, comfortable and durable, so you can wear them daily, to work or play. Delicate but durable, our bracelets are made to last a lifetime. We offer lifetime guarantee against breakage. 
Stainless steel. Lead free, nickel free, hypoallergenic, tarnish resistant. Gold & rose gold bracelets are 18K gold dipped.